ABL is a lifter with manual traction and electro-hydraulic lifting system that moves in narrow spaces with nominal capacity of load of 300 kg over the forks. This model adapts itself to the needs of the customer because, in anterior part of the high-strength steel chassis, different tools can be applied according to the load type to be handled.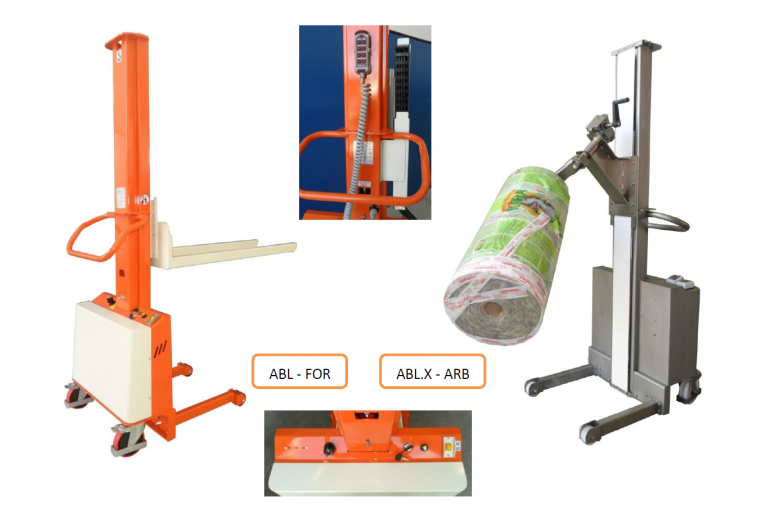 Technical features
Lifting powered by 24 V hydraulic unit supplied of two GEL batteries rechargeable anywhere by inserting into the 220 V network the plug of the high frequency built-in charger. Lift/lower control by electric button on the machine or mobile push-button panel, with the ability to manage two additional hydraulic functions. ABL lifter is also produced in galvanized version (ABL.Z) or stainless steel Aisi 304 version (ABL.X). The equipment is screwed on the lifting plate of the lifter, often tailor made to the customer request. Some kind of equipment are fixed directly on the forks, so we can handle different types of loads using the same lifter and simply replacing the tool. AFC offers also a manual side shift (TLM kit) which is inserted between the lifting plate and the equipment, to provide it of lateral displacement to facilitate the centering. The loading capacity of the ABL lifter can change depending on the kind of equipment being applied on.

AFC is able to understand the customer's needs and to propose customized solutions in terms of lifters and their accessories. Here are some examples:
- forks, loading platform, roller conveyor, crane arm;
- cradles for reels handling (CBT), also rotating;
- roller boom to take from the core (SPT);
- arms with reel shaft lock (SAB);
- expanding mandrel to take and rotate reels from vertical to horizontal (ARB);
- handling devices for boxes (ASC), containers (ACP), spools (ASR).